See the story of why I, particularly, loved our hotel.
***
The sun is shining in through the balcony curtains as we wake. The hotel has a fantastic breakfast at 8, and shortly after 9 we are gathered in the lobby for our 0930 bus to the race expo.  Holy cow – there are a bunch of people here to run a marathon!  No, wait – not "a" marathon.  THE marathon.  Of the 30K+ participants in Athens Classic Marathon events (5k, 10k, 42km power-walk, and the 42km marathon race), about 10,500 will run the distance.  The rest – like Margy and me with our 10k – are scattered among the remaining events.
But our tour group is made up of people who signed up for a Jeff Galloway marathon package – the majority are running the marathon. One man is looking to qualify for Boston. A couple are here for their wedding anniversary: they met late in life, started running late in life, (she is 70 years old – ran her first marathon at 60) and every leap year cycle, this race is held on their anniversary. They ran it on their anniversary last time – and they think they may make it a tradition, to run when the race falls on their day. Most are running the full marathon. Jessica is doing her first marathon, kicking off a several-week meander through Europe (as any young lady ought to do if she has the chance!). Mario was going to do his first marathon here, at a friend's prompting; the friend backed out at the last minute and Mario came anyway. Many are alone, some are in couples (like Erica and Roussi, who will finish together at 5:04. One suspects Roussi might have been able to go faster – but they are clearly happier to finish together.)
The bus is late. We have been warned not to get too hung up on efficiency while in Greece, other than race-day itself. And my OCD-switch is in the off position, remember?  About 5 minutes of ten, I overhear the Apostolos lady mention in passing that the bus is late. "Oh, is that it" I say.  "Yes, but he is on his way. " OK, then.
The bus arrives and we head off to the Expo. Greek clothing sizes run small – a medium will go onto my body but isn't flattering.  I order the 2014 Athens Classic Marathon ladies polo in a large from the web site.  It will meet me at home, eventually.  I pick up a medium for the lovely (and slender!) young lady next door, our almost-daughter who is having a birthday while we are gone.
We pick up a few things here and there at the expo – good toe socks are hard to find outside of running circles! And the girl at the booth is excited when she sees my shoes.  "Hello, Vibram!!" she exclaims enthusiastically.
When I pick up my race packet, they are out of large shirts.  I wait for a few minutes til more boxes are carried in, and when I escape the expo, I let our tour manager know that others are still waiting.  Well, they had to wait for the bus – now the bus can wait a few minutes for them. (Later, Jessica will realize her medium is not going to work for her and we trade. I can share Bernie's identical shirt if I need to – the medium will fit my brother, who wasn't able to join us this trip).
We are all in good spirits. The day is sunny and warm, and in 48 hours we will be a part of something legendary. There is no snobbery among our cohort – we are all a part of the legend.  Marathoners, 10ks, support crew are all one group, and we are already beginning to recognize the faces of 'our' pack. Apostolos actually has two groups – the "full service tour" group is in a different hotel.  All of the 'minimal support tour' folks are in our group, and we independent sorts have no trouble forging ourselves into a loose family.
Back at the hotel, we have just a few minutes to pitch our expo goods into our rooms before it is time to be back downstairs for our 2-hour city walking tour. This one is not optional – as it includes a visit to Sunday's finish line, and directions on how to get back to the hotel!
Athens has created a broad pedestrian-only boulevard that joins all of the major archaeological sites in the city. (As it turns out this is subject to interpretation, as are most Greek driving laws. Stop signs, lane lines, speed limits are all suggestions, and only once did I see someone – a taxi – use a turn signal. I think it was because he saw us thinking about crossing the street and wanted us to stay out of his way.  But when the cars and motorcycles turn up the pedestrian-only street, they do go slowly, which is clearly intentional as it does not happen anywhere else…)  As it turns out, Herodion is a block away from, and essentially next door to the new Acropolis Museum (OK, there's one door between us, but that hardly counts…).
Our guide walks us along this pedestrian boulevard to the Olympeion, a complex encompassing a massive temple to Zeus, a Roman bath, several other partially-excavated temple structures. It is co-located with the Arch of Hadrian, a monument built by Emperor Hadrian to mark Roman ownership of Athens. (It also marked the beginning of "the Adrianou" – Adrianou street is the tourist shopping zone where we will get the majority of our Greek souvenirs. We make a mental note to stroll down Adrianou as the guide dutifully informs us that Ermou is the shopping district – Marks & Spencer, Berto Lucci, etc. On another day, chance will lead us to Ermou, which we will pass through on our way to the Plaka, but clearly that is not the type of shopping we will be doing).
She walks us past a beautiful fountain, and explains that the yellow buildings behind it were the original Olympic Village – the venue is used for events, and behind it is the Greek Parliament building.  We continue past, sloping down until we can see the Panathenaiko – the stadium which, in ancient times, was home to the Pan-Athenian games. (I have seen this as Panathenaiko, Panathenaikos, and Panathenaikon – and wonder if the different endings have something to do with Greek grammar that I should learn.)
When Greece was created as a distinct nation-state in the 1800s, they did two very important things. First, they looked through their history to find an identity – things they could build morale around. This is how stories like that of the 300 Spartans came into common awareness in modern times. Second, they began the Great Excavation – a process of unearthing, restoring, and documenting the amazing history of the cradle of democracy, home of philosophers, mathematicians, and scientists from the earliest written records of man. The Panathenaiko is perhaps the most visible place where these endeavors meet. It was excavated and restored – then used to host the modern revival of the Olympic Games. Its marble seats hold over 65,000 people – as big as an NFL stadium (though longer and narrower). Marathon runners cross the finish line in this historic venue, and as we arrive it is already being prepared for Sunday's event.
The guide explains the way back to Herodion ("follow the big street uphill to the temple of Zeus. From Hadrian's arch – cross the street to the beginning of the pedestrian way.  When you see the Acropolis Museum, turn left at the corner…") and continues on to Syntagma (Constitution) Square. She tells us that the Parliament was the King's Palace – the King gave the people a constitution when they asked for it, and agreed to abide by it.  I can't help but wonder how voluntary that was – but she says it with great certainty and it seems best not to poke that bear. We see a large crowd and the tour guide laughs and says "it wouldn't be Athens if you didn't see a demonstration!"  Protesters.  The tour guide skillfully and casually ensures that we don't get close enough to see what they are protesting.
We stand at the Tomb of the Unknowns, watching the guards exchange places (a great show for the tourists, and a chance for the guards to break the still pose and keep the blood flowing every 30 minutes), then continue on to the Mitropolis (or "Metropolis"), the primary cathedral of the Archbishop of Athens; in the Eastern Orthodox church, a bishop is known as a Metropolitan. As we walk, a woman rushes up to our guide. Although most of us cannot follow the conversation, I do catch enough to understand that the guide is explaining we are a group of runners, and she is showing us around. As it turns out, this is a TV reporter, and she wants to interview runners. Our anniversary couple is put forward, and does a brief interview, which airs on Channel 6 that evening. Erica and Roussi are able to record it, and offer to share with anyone who asks. (I did ask, but they must have lost my e-mail address as I never received it.)
We continue on to the Plaka (town square), and are given a brief introduction to the Acropolis ("Acro' – high,  "polis" – city, is the highest point in town. The word refers to the hill, not the buildings. Apparently every major city had one…). Our guide heads back to the hotel with those who want her to show them the way, but we decide to go exploring instead. We purchase Acropolis "combo tickets" that allow access to all of the major sites in Athens, and head back toward Hadrian's Arch. We stop for lunch at a restaurant along the pedestrian way which seems full of locals.
I think the thing I will find hardest to convey as I tell people about our trip is the sheer scale of things. Bernie and Margy obligingly stand in pictures for me just so there is some idea of the height of the structures, but it doesn't really convey a sense of how massive they are. Later, when we visit the Acropolis, we will be able to see the Temple of Zeus clearly,towering above the city. Athens' maze of narrow streets surrounded by 5 to 8 story buildings looks positively Lilliputian – sprawled at Zeus' feet.
From below, Hadrian's Arch stands proudly, pointing upward at the Parthenon, and looking as though it is balancing the Acropolis on its shoulders. We walk through the Olympeion complex, meandering through its Greek temple and Roman baths. Jessica looks over the back fence and realizes there are other temples on the grounds. Turns out, She has found the Temple of Apollo Delphinios, which leads us to the temple of Kronos and Rhea. Apparently, it's a 3-generation, family temple…
At the edge of the Roman baths is a beautiful bench, carved into the wall of a planter and set in the shade of an olive tree. From it, you could sit and admire the temple of Zeus, with the Arch on your right and the Acropolis over your shoulder. On closer examination, 6 or 7 colonies of black ants appear to have had the same idea – we abandon the idea of sitting there, but Bern lets me take his picture standing near it – just not too near….
As we walk through the temple grounds, I set my foot upon a large, rounded stone embedded in the earth. I glance down and realize it is an ancient piece of marble. Everywhere I go in Athens, I will walk on marble – smooth marble tiles, marble chips laid into a path, bits of marble escaping imprisonment in the earth….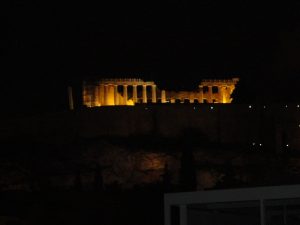 We follow the arch to the Adrianou, and turn downhill to the pedestrian way. As darkness falls, we learn that all of the major landmarks in Greece are flood-lit at night. From the heights of the Acropolis, the Parthenon glows softly, as though it were Olympus, home to the gods themselves. We pause and stare in silent recognition of the age and majesty of the Parthenon – beautiful even in ruins. How much more so must it have been in its original form?
Finally, we turn for home – walking past our hotel and up the Rovertou Galli until we find a restaurant. Greeks eat late – we are the only customers. The maître d' – as, we find, is common in the city center – stands at the door and encourages passers-by to enter. Once we do, we not only have his attention, he selects dishes for us (his words are too strong for "suggestion") and we are pleased with the result.
We return to our hotel with our minds full of history and amazement, bellies full of excellent food. We will soon learn that every night in Greece will end this way.